You are $150.00 away from free shipping
Our Ambassadors
Our Ambassadors
Meet the coaches, athletes andcommunity leaders that help guide us.
Meet the coaches, athletes andcommunity leaders that help guide us.
Lindsey's running career started while attending SFU. She graduated in 2015 with a Bachelor of Arts degree in Health Sciences, and is a two time NCAA Division II 800m champion.  Lindsey continues to train in Burnaby with her coach at SFU while working full-time as an academic advisor for student athletes.  She most recently placed 10th at the World Championships in the 800m in 2019. Her immediate goal is to qualify for the 2021 Olympic Games in Tokyo.
Catalin brings experience and diversity to the pickleball courts during his lessons and clinics. As a certified TPA instructor for over 10 years and now IPTPA instructor since 2017, Catalin has developed a keen eye for finding ways to help improve his students' game. He uses an interactive teaching style, filled with various techniques, hands on experience and a lot of fun. Catalin is not only a committed pickleball instructor, he is also a dedicated player.
Chuck is a pickleball instructor and has been playing the game since 2016, when he was introduced to the game while on vacation in Hawaii. He has completed his level one instruction with IPTPA and is an instructor with PCI (Pickleball Coaching International) 
He is one of the founding members of the VPA and loves competing. Chuck and his spouse Karen instruct R&R's Intro to Pickleball series.
He loves being an instructor to beginners with zero experience, athletic beginners with a sport background and improving players skills and strategy who are wanting to improve their game. 
Making her tennis debut in 2011, Rebecca has reached the top levels of Canadian and International tennis. From Vancouver, BC, Rebecca has twice been named Female Player of the Year by Tennis Canada. In 2013 she took a 5-year break from professional tennis, and returned to competition in 2018. Since her return, she has competed in the 2019 Pan American Games in Lima Peru, and reached the 2nd round of the 2021 Australian Open. 
Often found playing on a myriad of courts throughout the Lower Mainland, Karen is an enthusiastic and active recreational player within the pickleball community. She is a member in good standing with the VPA, as well as the Richmond, Burnaby and Delta Pickleball Associations. Karen and her husband Chuck discovered pickleball in 2016 while on vacation in Hawaii and became instantly hooked! Pickleball created a whole new exciting  avenue of travel for this pickleball loving couple.  When she's not playing pickleball, she's happy to help grow this addictive sport; assisting with the Rackets & Runners Intro to Pickleball Series.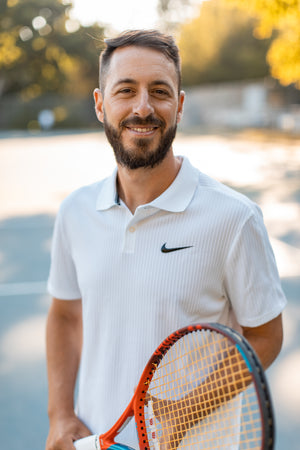 Originally from Madrid, Spain, Alberto has been playing tennis since he was 5 years old. He has coached in Madrid at the biggest club in Europe and is Spanish coach certificated and about to complete CP2 by Tennis Canada. In Canada he has worked delivering tennis programs to many elementary schools and worked with competition juniors.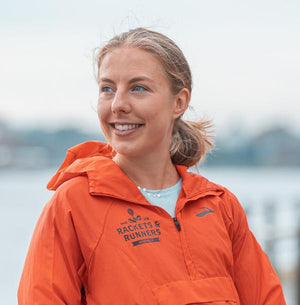 Devan Wiebe is a track and field runner and Brooks Canada Ambassador. She has been with Rackets & Runners since 2017 and is incredibly proud to be supported by such a community-minded business. Devan shops at R&R for all her running needs and lives by the Brooks motto of "Run Happy." Her top running tips are: go to R&R and get fitted by the best in the business, start out slow and let your body get used to the impact, and play around with different workouts until you find what you enjoy the most!